I played Plants vs Zombies during my past time or if I have nothing to do. It was almost six months ago when I started playing it. I finished the Adventure mode to unlock the other three modes. My Zen garden now have different kinds of plants that produces coins and my Wisdom tree is 1,500 feet tall. The most thrilling and exciting mode to play is the Survival endless. To defend my home from getting the zombies to eat my brain, I planned my defense strategy carefully.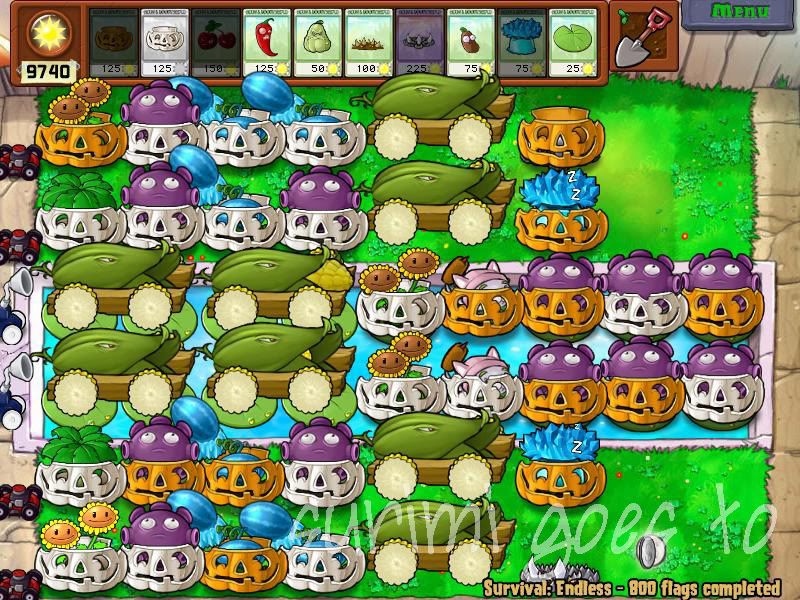 The Lawn:
I purchased 2 pool cleaners and a garden rake for additional defense.

First row from the house, 2 twin sunflowers and 2 umbrella leafs to protect you plants from bungees and catapults.

Second row, 4 gloom-shrooms againts digger xombies and imps.

Third row, 4 winter melons to slow down the zombies.

Fourth row, 2 winter melons and 2 gloom shrooms.

5th and 6th row, 4 deadly corn cobs.

7th row, spike rocks, ice-shrooms or fume-shrooms.
First to fourth row - corn cobs.

Fifth row - twin sunflowers.

Sixth row - 2 cattails.

6 gloom-shrooms on the remaining rows.
I am already on my 1000th flags and still hoping to make it to 5000 flags. My favorite plants is the cattail because its can shoot any lane whether it be on the ground,air or water. My most hated zombie is the jack-in-the-box because when it explodes it destroys all nearby plants.
I so loove playing this game so i will continue to kick zombies in their butt if they step on my lawn! And did you know that the world boxing champ Manny Paquiao play Plants vs Zombies too?